If you're planning to visit Wales in December you're in for a real treat. It might be one of the coldest months of the year, but the Welsh landscape looks beautiful dusted with a little frost and snow. Plus, we've got plenty of activities and events to keep you toasty warm and full of festive cheer! Whether you want to embrace all things Christmassy, get out and explore some mountain landscapes, do some wildlife watching or plunge into chilly mid-winter seas, Wales has got just the thing for you!
Read on for our list of the top ten things to do in Wales in December.
1
Christmas shop until you drop
A visit to Wales in December is a chance to throw yourself into all things festive. There are fairs, festivals, markets and winter wonderlands happening up and down the country where you can have a great day out and shop for Christmas gifts at the same time. Here are some of our favourite festive locations:
2
They grow up so fast
While you can see seals on the beaches of Wales all year round, December is your last chance to spot baby seals in all their fuzzy, white, adorable glory before they take to the water and start growing up. Plus, in December, you can pair seal watching with the joys of walking on rugged Welsh beaches in blustery winter weather, which is a wonderful experience in itself.
You can spot these adorable animals on between September and December. Some of the best areas to try are the remote rocky beaches of North Pembrokeshire, the Marloes Peninsula, St David's Head, Strumble Heads, and the Llyn Peninsula. Or get out on the water and head for the St Tudwals Islands, Bardsey or Skomer Island. And Ramsey Island, which is home to one of the largest populations of seals in Wales and sees around 600 pups born each year.
3
Run Santa run
Want to make sure you stay fit during all the festive indulgence? We've got the answer for that! Join a Santa Dash for the chance to run 5k while wearing a Santa suit and help some local charities while you're at it.
4
Have a festive flutter
The day after boxing day sees the biggest horse racing event of the Welsh calendar, the Coral Welsh Grand National. What better way to kick the post-Christmas blues than an event that combines Welsh pride, competition, lingering festive cheer and prize money of a whopping £150,000?
This historic event has been taking place on Wales' premier racecourse in Chepstow since 1949. It's a fun day out for the whole family with food and drinks stalls, live music including a Christmas choir, entertainment for children and the chance to see history being made. In 2017 16-year-old James Bowen broke records by being the youngest-ever jockey to win the race. And in 2019, Welsh pride soared as a Welsh-trained horse took the win for the first time since 1973.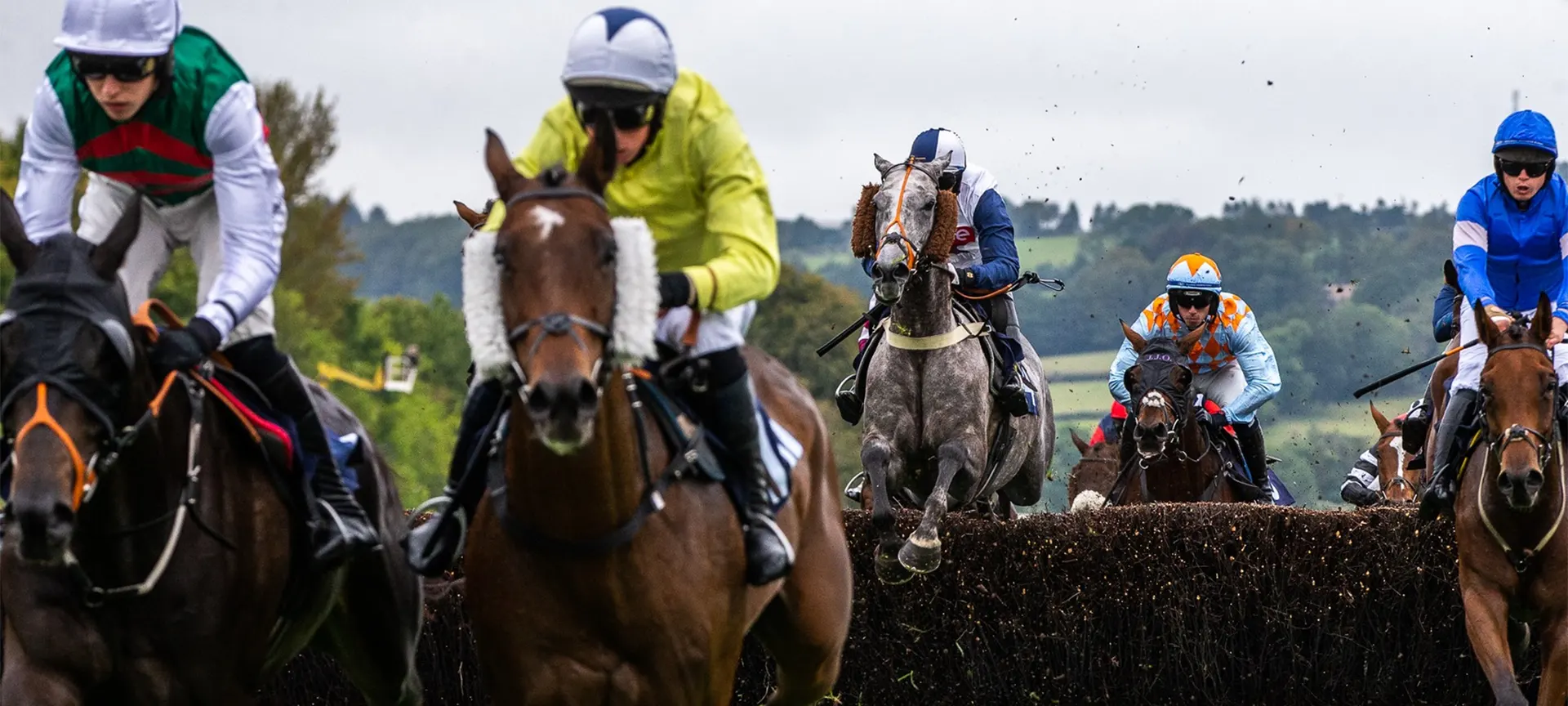 5
Take a dip
Get your Christmas day off to a bracing start by plunging into the icy sea for Porthcawl's annual Christmas Day Swim! Over a thousand people each year gather in fancy dress to participate in or support this chilly endeavour that raises money for charities such as the Wales Air Ambulance, Prostate Cymru, and the Welsh Alzheimer's Society. It's a great way to work up an appetite for your Christmas dinner.
If you'd rather wait till after Christmas Day, head to Tenby to take part in their similarly bonkers Boxing Day Swim. It's guaranteed to sweep away any lethargy brought on by too much turkey! This one has been going on for 50 years and attracts hundreds of people kitted out in their fancy dress finery to plunge into the chilly waters before returning to the warmth of a beach bonfire and mugs of soup.
Alternatively, head for the Walrus Dip at Pembrey Country Park, Carmarthenshire. A boxing day event where you raise money for the charity of your choice. Or the Llandudno Boxing Day Sea Dip, where the water is an average of 9°C.
6
Let the light in
Throughout December, Christmas lights will be twinkling up and down the UK. But in Wales, we've got something a bit more special than a few fairy lights. From late November to early January, several castle grounds and parks turn into enchanted gardens full of light installations designed to delight the senses of viewers, young and old. Head to one of these locations to experience the magic for yourselves:
7
Scale icy peaks
Wales is not the most reliable winter sports destination, but – when the snow falls – there are a couple of locations perfect for winter climbing. There are some spots in the Brecon Beacons and a few even in South Wales if the temperatures drop far enough. But the biggest climbing playground is Snowdonia National Park, home to icy valleys, north-facing mountains and frozen waterfalls.
Check out PYB, who offers winter climbing courses that don't require any previous experience and include accommodation, food, equipment and instruction. You'll learn how to use crampons and ice axes, read the conditions, plan an excursion, and climb safely, all in the spectacular Snowdonia scenery.
If you already know what you're doing, check out Snowdonia Adventures, who offer bespoke winter guiding for experienced climbers wanting to explore the Welsh terrain.
Please note: Winter climbing is dangerous and should only be done alongside experienced, qualified instructors or guides.
8
Seek out Santa
If you're bored of visiting Santa in your local shopping centre, why not seek him out in a new location, or perhaps combine a Santa sighting with a day out or activity? Amazingly, in this, his busiest month of the year, Santa still finds time to pop up at all manner of weird and wonderful locations in Wales and you can visit him in these offbeat spots:
9
She's behind you!
It's pantomime season! What better way to get into the festive spirit than by taking the family to a performance of a fairy tale classic and booing as the villain takes the stage? Pantos take over theatres all over the country in December, so check out the big panto guide to find out which shows are happening near you.
If hissing at bad guys isn't your style, why not take in something a little more high-brow? Ballet productions of The Nutcracker, The Snow Queen and Swan Lake are common at Christmas time, as are classical carol concerts. Keep an eye on the websites of the Welsh National Opera, Ballet Cymru and National Orchestra of Wales to see what shows they're performing throughout the country in December.
10
New Year's Eve
Of course, the last thing to do in Wales in December is to see the old year out in style! And in Wales, we've got a celebration to suit all tastes.
If you want an unusual New Year's Eve experience with its roots in Welsh history, head to Llangynwyd, Bridgend, or Llanwrtyd Wells, Powys, where the communities celebrate the Welsh folk tradition of Mari Lwyd. This involves carrying a decorated horse's head and calling at various establishments to sing traditional verses and demand admittance and refreshments. Strange? Yes. Fun? Most definitely.
If you'd like to see the new year with a bit of physical exercise, consider the Nos Galan Road Races in Mountain Ash in the Cynon Valley. The races celebrate Guto Nyth Brân, a Welsh athlete from the 1700s who was said to be so fast he could catch birds in flight, and blow out a candle and be in bed before it was dark.
The five kilometre race begins with the lighting of a torch which is then carried through the streets by a Mystery Runner. This is generally a famous sports personality, whose identity is withheld until the event itself.
If you want a more traditional celebration, consider the fantastic fireworks extravaganza over Beaumaris Castle, Anglesey. Go classy with a masquerade ball at the famous Celtic Manor Resort. Or if you just want to party hard, we'd recommend heading to Cardiff, undoubtedly one of the best nights out in the country and home to the widest choice of pubs, bars and clubs. Fair warning, though, it'll be busy, so head for your venue of choice well before midnight to ensure you get in before the bells toll!
There you go
These are our top 10 things to do in Wales in December. What do you think? Do you feel like celebrating Christmas or New Year's Eve in Welsh style? Want to spot some seal pups, try ice climbing, or have a flutter on the horses? Whatever you fancy doing, be sure to book your accommodation in advance to avoid disappointment, and we'll see you in December. Happy Christmas or should we say Nadolig Llawen!
What about next month? Here's our guide to the top 10 things to do in Wales in January.