Planning an April holiday to Wales? We don't blame you! April is an excellent time to visit. Spring is in full swing, the snow has melted off the peaks, the Easter holidays have arrived, the temperatures are rising, and more and more activities are opening up after the long winter break.
April has something for everyone, from rare wildlife and wool festivals to mountain marathons, tasty treats and awesome accommodation. So, don't be an April fool, read on for our top ten things to do in Wales in April.
Celebrate Easter
Ok, we know Easter moves around, but chances are that it – or at least a part of the kids' holidays – will fall in April. If that's the case, we've got some fun easter activities for you to do in Wales.
Easter egg hunts: Many National Trust properties and castles in Wales host easter extravaganzas complete with egg hunts in their impressive grounds and crafting sessions that include egg painting and card making.
Visit a farm: Easter is the time for baby animals, and what better place to see them than by visiting one of Wales' many farms? Consider staying on a working farm or head to one of Wales' petting zoos where your little ones can get up close and personal with the animals. Check out Folly Farm near Tenby, Greenacres Animal Park in North Wales and Foel Farm Park in Anglesey.
Get hiking: The easter holidays are an excellent time to get out and about on the hiking trails of wales. Look out for carpets of daffodils giving way to fields of wild garlic and bluebells by the time May arrives.
Adrenaline hunting: Get those kids up and active by taking them flying through the trees at one of the Welsh Zip World locations, climbing rope ladders and swing bridges at Go Ape in Margam Park, racing around a theme park like Oakwood in Pembrokeshire, or bouncing their energy away in North Wales' incredible underground trampoline park Bounce Below.
National Museums: This being Wales in April, it's wise to have a rainy day plan in place for the school holidays and what's better than an activity that is educational, engaging and, most importantly, free? Wales' seven national museums offer something for all interests and, best of all, have no entry fee. Choose from the National Museum in Cardiff, the Big Pit UNESCO world heritage site, and St Fagans living museum.
It's a dog's life
Listen up dog lovers! April is the last month dogs are allowed on lots of Welsh beaches. From May through to September, many beaches ban dogs to keep them clean and peaceful for holidaymakers. Of course, you can find some beaches that allow dogs all year round. But if you want to holiday with your pup in some of the more popular beach destinations, like Tenby North Beach, Abersoch or Whitmore Bay, Barry Island, you need to get there before the ban begins.
So have a hunt for pet-friendly accommodation, and you and your canine pals can be running free, chasing seagulls and digging sandy holes in no time.
Wine not?
Wales is probably not top of your list when you think of winery holidays and vineyard visits, but we've got some news for you! Wales is home to over 30 vineyards which produce a wide range of award-winning wines. And many of these wineries offer tours, tasting sessions and elegant accommodations amidst stunning scenery.|Here are a few Welsh vineyards well worth visiting this springtime:
Go glam
April might be a little early in the year to be thinking about camping. The unpredictable spring weather and high chances of rain can quickly turn a fun week in a tent into a damp and muddy affair. So, why not consider glamping instead?
Glamping is simply upmarket camping. You get all the benefits of being out in nature, in beautiful remote locations, without sacrificing your creature comforts. Book a spot on a glamping site, and you'll find semi-permanent tents built with sturdy wooden frames, fully furnished with proper beds and linen, electricity and heating. Often they're not tents at all but log cabins or wooden pods with fully equipped kitchens and bathrooms – no midnight trips to the toilet block at these sites!
You'll find glamping sites in some of the most beautiful areas of Wales, including the Llyn Peninsula, Pembrokeshire Coastal Park, Carmarthenshire, The Brecon Beacons National Park, Snowdonia, the Wye Valley and through the foothills of Mid Wales. And in April, the prices have yet to reach peak season rates, so you'll find it's an affordable way to stay amidst some of Wales' most picturesque locations.
Crochet, crime and comedy
April's festival calendar is packed with events for all tastes! Check out a few of our top picks:
Get active
If you prefer to participate in events rather than be a spectator, then check out one of these active events happening in Wales in April:
Saddle up
Have you ever dreamed of riding a horse on the beach? Galloping along with sand flying beneath your horse's hooves, the waves crashing nearby, and stunning scenery everywhere you look. Well, dream no longer! Wales is the perfect place to engage in this ultimate fantasy activity.
Wales' dramatically beautiful landscape lends itself perfectly to memorable horse riding trips, and you'll find riding centres and schools all over the country ready to help you hit the trails whether you're an experienced rider or a novice.
The Pembrokeshire Coastal Park has some incredible riding experiences, choose from countryside tracks, coastal paths or beach rides or opt for a route that blends a little of everything. Or go riding in Carmarthenshire to race along the seven-mile expanse of Pendine Beach, a truly memorable experience.
Anglesey is also a beautiful place to ride because the expanse of sand alongside the Menai Strait is so spectacular. Ride along the sands with views of Caernarfon Castle and the Snowdonia mountain range in the background. And the Vale of Glamorgan offers stunning rides that combine beaches with countryside riding, all an easy distance from Cardiff, ideal for a day out from the city.
Prepare for judgement
Think the rugby excitement ended with the six nations in March? Think again! The Women's Six Nations Tournament is still in full swing and racing towards its conclusion. And as we mentioned in March, the Women's tournament is much more accessible than the men's, with tickets much easier to come by and a fraction of the price. So get out there and support the Women!
Plus, rugby season has one more event in its bag in April, the dramatically named Judgement Day! The BKT United Rugby Championship ends with a bang as the four powerhouse teams of Welsh Rugby: the Ospreys, Scarlets, Dragons RFC and Cardiff Rugby, all face off in a massive double header in Principality Stadium in Cardiff.
A huge day in the Welsh rugby calendar, these matches don't just provide bragging rights for these neighbouring rivals, but they also determine the winner of the Welsh Shield and who will qualify for the following season's European Rugby Champions Cup.
The high stakes, plus the fact that Welsh rugby fans are some of the best in the world (fact), mean this is an exhilarating event to watch live. It's also a reasonably priced day out for the family, with ticket prices starting at £15 for concessions and children and £25 for adults. So if you haven't yet had the thrill of watching a Welsh rugby match live, this is your chance!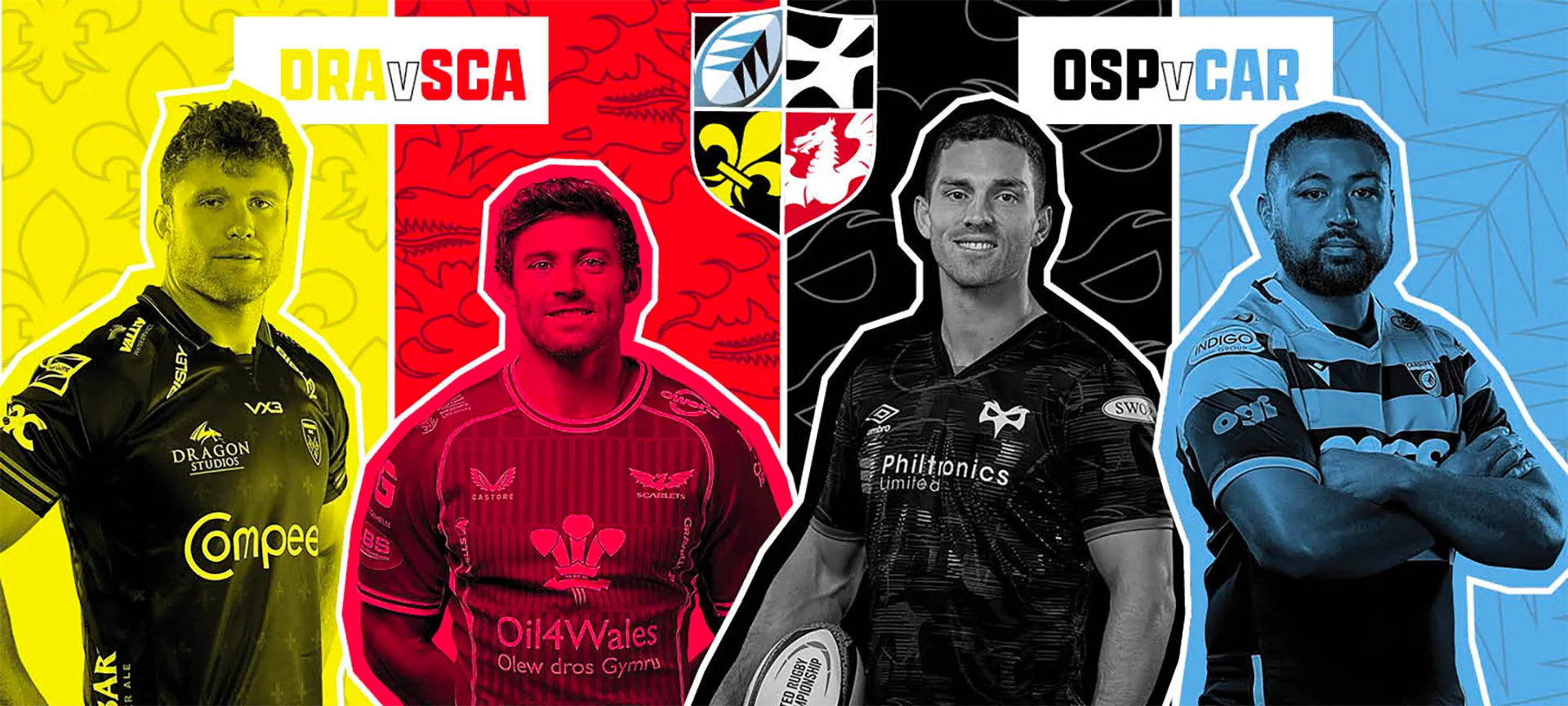 Welcome the Ospreys
We're not talking about the rugby team this time but the birds of prey! April sees these majestic birds returning to Wales to nest and breed over the summer months, and their yearly return to our shores is cause for great celebration.
Ospreys, known as Gwalch y Pysgod or 'Fish Hawk' in Welsh, were once common, but they disappeared from our shores due to habitat destruction, hunting, and egg stealing. It was feared that they would never come back, but in 2004 the first osprey made its return, and numbers are now on the rise thanks to the careful and dedicated conservation efforts of Osprey projects around the country. There are currently several known Osprey nests in Wales:
Two in the Glaslyn Valley, where the first ever recorded breeding pair of Ospreys in Wales were spotted in 2004. Over 40 Osprey chicks have been born here since then, and several of them have gone on to nest and breed elsewhere in the UK.
One at Cors Dyfi near Machynlleth – this nest has been populated since 2009 by a breeding pair which produced three eggs in April 2022.
And North Wales Wildlife Trust has The Brenig Osprey Project, which has welcomed a young breeding pair since 2021. They were sighted from April to September in 2022 when they produced two healthy chicks.
Each of these nesting sights has a visitors' centre and viewing platforms so you can watch the nesting ospreys from a safe distance. They also have live webcams and regularly updated websites with pictures of the new chicks and the history of their sites, the birds and the family trees of the birds born there.
Eat well, eat Welsh
In March, we listed some top Welsh treats for you to try in celebration of St David's Day, but April holds a few reasons to try these tasty treats too (not that we ever need a reason!).
The 14th of April is National Laverbread Day and the perfect time to try this iconic Welsh dish. It's misleadingly named and isn't bread but seaweed collected from the Welsh coastline and cooked into a nutrient-rich puree.
This delicacy has been eaten in Wales for centuries and has a strong, salty, slightly fishy taste that is a real love-it-or-hate-it flavour. You'd usually eat it baked into lava cakes on the side of a Welsh breakfast, mixed with cockles and mussels, or served on buttered bread. But on National Laverbread Day, chefs get a little more creative, and you might get to try savoury laverbread Welsh cakes, laverbread rarebit, laverbread butter, or fish with laverbread sauce.
April is the end of the Conwy Mussels Season, so get them while you still can! Widely regarded as the best mussels in the UK and some of the best in the world, Conwy mussels are known for their large size, colourful shells, and meaty, distinctive flavour.
Despite their high demand, these mussels remain respectfully and sustainably farmed. They grow naturally on the bed of the Conwy Estuary, fed by salt water from the Irish sea and fresh water from the Welsh mountains. They're hand raked in sustainable numbers and are only harvested in season. That's September to April. So this is your last chance to taste this delicious seafood treat for four months!
That's it
That's our top ten things to do in Wales in April. Can you see yourself eating seaweed for breakfast, galloping across sandy beaches, watching baby lambs frolicking, sampling Welsh wines, or watching the rugby? If so, book your accommodation (glamping pod optional) and start planning your spring holiday!
What about next month? Here's our guide to the top 10 things to do in Wales in May.
Anita moved to South Wales as a child and has thought of herself as Welsh ever since – especially when it comes to rugby! She spent her childhood sailing the coastline and playing on the beaches and now continues to explore her chosen country as an adult. She loves discovering quirky villages, trying out adventure sports, and hunting for the best fish n chips in Wales.