May is one of our favourite months of the year and a fantastic time to visit Wales. Although technically still spring, it often includes beautifully sunny days that can feel like midsummer. It's also one of the year's driest months, which comes as a welcome change after the unpredictable rains of March and April.
And it's a month that offers plenty of opportunities for time off! It includes the last half term of the school year, plus two bank holidays (and a third one in 2023!). It's simply built for long weekends and getaways and has a packed events calendar guaranteed to keep you busy. So to help you make the most of this wonderful month, we've compiled this list of the top 10 things to do in Wales in May. So read on to start planning your perfect trip.
Stroll amidst the flowers
Wales is always a fantastic place for walking, but the experience becomes even more spectacular in May as thousands of bluebells and wild garlic plants take over the forest floors.
Walking amidst a sea of purple bluebells stretching beneath towering trees is a fantastic experience. The delicate nodding heads and rich colour call to mind thoughts of fairy groves and magical kingdoms. This incredible sight crops up all over Wales, but check out the Woodland Trust for a handy list of some of the best spots to find bluebell groves.
And while you're out walking, keep your nose in the air, searching for a hint of wild garlic. Like the bluebells, wild garlic is prolific and fills woodlands creating a fantastic sight for a short space of time. The delicate star-shaped white flowers bear no resemblance to the bulbous garlic of the kitchen, but the smell is unmistakable.
I vividly remember driving through West Wales as a child and having the car fill with the smell of garlic. We'd stop while my mother jumped out to forage for the edible flowers and leaves. So why not do the same? Sprinkle the flowers on salads and soups to enjoy a flavour more delicate than bulb garlic, and collect the leaves to make garlic oil or wild garlic pesto.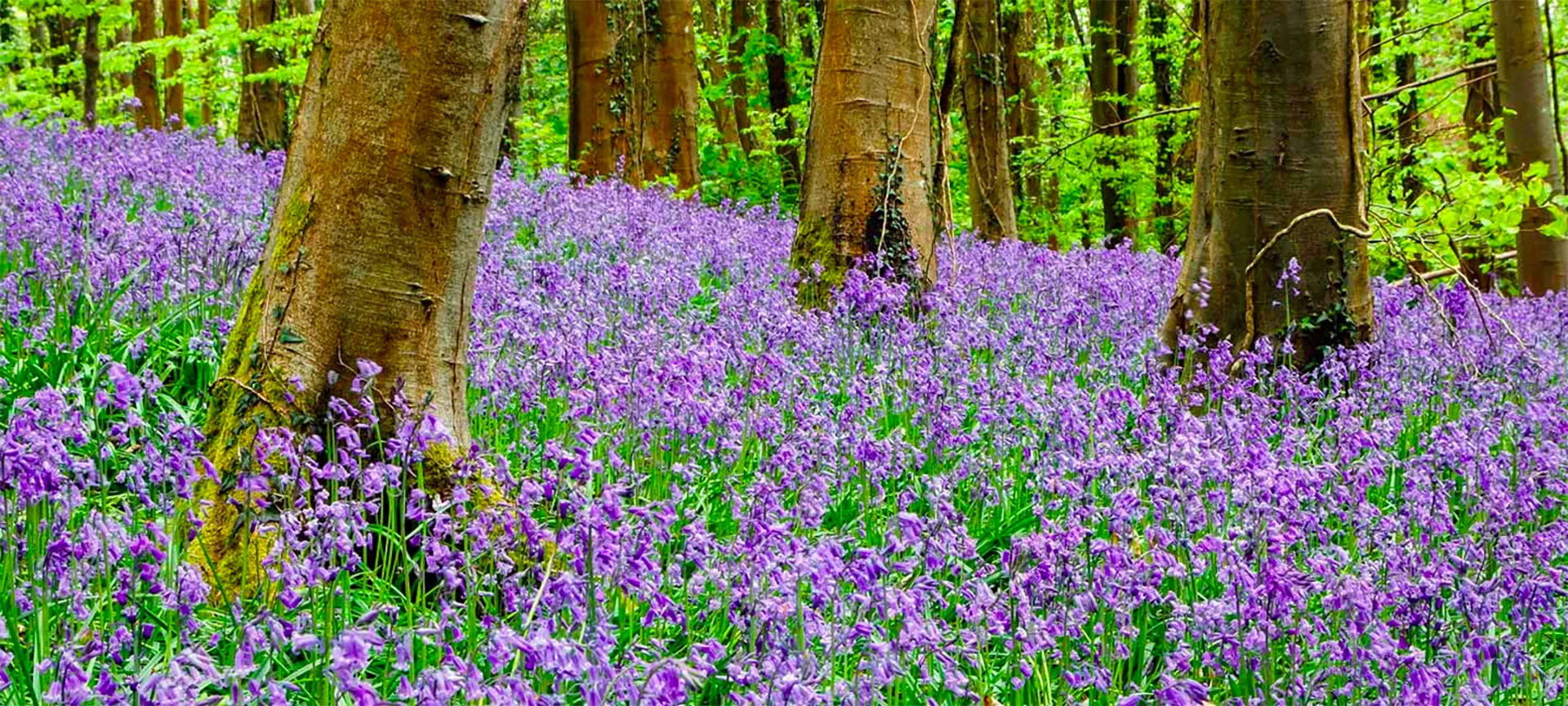 Take your pick of the festivals
Several of the events we mentioned in April (like the Talgarth Walking Festival and the Llandudno Victorian Extravaganza) are still taking place as the month begins. But May also has plenty of festivals of its own. Here are some worth checking out:
Soak up some island tranquillity
If you're in Tenby for a holiday in May, then be sure to visit Caldey Island! One of the UK's Holy Islands, this sacred place is owned by an order of Cistercian Monks and is home to only around 40 residents. Spend the day exploring the impressive monastery, visiting the lighthouse and learning about the island's fascinating 1,500-year history.
Or relax on the beautiful beach and wander the walking trails enjoying the island's rich flora and watching for rare red squirrels, reintroduced to the island in 2016. And be sure to visit the island shop where you can purchase chocolate and perfume handmade by the monks.
The island is closed to visitors over the winter, and rough weather can keep it closed into April. However, by May, you'll find regular ferries make the 2.5-mile journey every 30 minutes throughout the day (except Sundays). Catch the boat from Tenby Harbour and Castle Beach at low tide.
Run wild
If you want to push yourself during your holiday, why not tackle one of these challenging events happening in Wales in May? Choose from:
The Montgomery Canal Triathlon: Run, cycle and kayak the 28.5 miles through lovely scenery to the finish line.
Snowdonia Half Marathon: Let the spectacular surroundings distract you from the gruelling ascent as you race up the slopes of Wales' most famous mountain.
The Midnight Mountain Marathon: Tackle part of the same punishing course as the Special Forces Fan Dance Race we discussed in January. But this time you're starting in the evening and must finish by midnight!
The Brecon Beacons Trail Running: This popular event comes in four flavours: 10k, half marathon, marathon and a massive 32.2-mile ultra marathon! And you can run it with your dog (if they've been in training)!
Enjoy an eisteddfod
Every child who grew up in Wales (myself included) has memories of competing in or watching the Urdd. A massive part of the Welsh school calendar, this ongoing celebration of youth music and dance in Wales has events occurring all year round. But it culminates at the end of May / early June with The Urdd National Eisteddfod – or finals week!
Pronounced 'ei-r-th' (with the th as in 'the'), the Urdd is a week-long event attracting thousands of the country's most talented youth performers. It's a fantastic chance to glimpse traditional Welsh culture, enjoy exceptional performances and see why this country is known as the land of song.
Go for a paddle
Wales is home to all manner of water sports, including excellent surf beaches and coasteering centres (a form of extreme coastal exploring invented in Pembrokeshire). But if May is too early in the year for you to get completely in the water, sea kayaking might be the thing for you!
It's a popular sport in Wales, especially around Pembrokeshire, Cardigan Bay and Anglesey. You'll find plenty of centres ready to take you out, and the great thing about sea kayaking is that they can tailor the trip to your own tastes.
Beginners can go for a mellow paddle in flat water where they'll barely get wet, while intermediates tackle rougher water and longer trips, and advanced paddlers can get their heart rates up by riding incoming high tides, breaking surf and tidal rapids. You can paddle alone or in a tandem kayak, go on an overnight exploration or head out on a wildlife spotting trip around coastal islands.
The choice is yours. Just talk to the paddle centres about what style of paddling you fancy.
Do not go gentle into that good night
The 14th of May is International Dylan Thomas Day, celebrating the life and work of Wales' most famous poet. Dylan Thomas' many moving and evocative works are as relevant today as they've ever been, and you'll find his day celebrated not just in Wales but across the globe. However, there is surely no better place to celebrate than in the land of his birth.
Swansea was the poet's birthplace and inspired much of his work. So why not visit the Dylan Thomas Centre and then take a walking tour of the city to see the man's old haunts and homes, including pubs he frequented and the statue erected in his honour?
Or, visit Laugharne, where he lived and worked for much of his life. His house and studio, the Dylan Thomas Boathouse, is now a tearoom and museum and stands in a fantastic location in one of South Wales' most beautiful areas.
And if following in the poet's footsteps has inspired you, why not enter the annual Love The Words poetry competition in his honour?
Keep an eye on the sky
In April, we talked about the Ospreys, which have begun returning to spend their summers on Welsh shores after many years of absence. By May, these majestic birds should have all returned from their winter migrations and can be seen flying over the hills and valleys of Wales. If you're lucky, you might spot them diving for fish, showcasing how they earned their Welsh name of Fish Hawk or Gwalch y Pysgod.
Thanks to several excellent conservation projects in Wales, you can also watch these birds up close as they nest and breed. Head to the Glaslyn Valley, Cors Dyfi near Machynlleth, or The Brenig Osprey Project in North Wales. These projects each have viewing platforms built at a safe distance from the nests. Plus, they have visitor centres, webcams, live streams and blogs where you can learn about the birds and follow the progress of the eggs and chicks over the summer months.
Hit the hay
The Hay Festival is one of Wales' biggest annual events. This internationally renowned literary and arts festival attracts over 100,000 attendees who come to enjoy the lineup of high-profile literary celebs, world-class performances, classes and workshops.
The festival takes place in the last week of May and the first week of June. Most years, it coincides with the world's largest philosophy and music festival – How The Light Gets In, which also happens in Hay – making this little town on the Wales / England border the best place to be for festivals of the mind.
But even if you miss the festivals, Hay is well worth a visit. This town is nicknamed 'The Town of Books' for its abundance of independent, second-hand, niche and downright quirky bookshops.
And while bookworms browse the many shelves, more active adventurers can take to the river to kayak or paddleboard along its exceptionally scenic waters. Then, choose one of the lovely cafes or riverside pubs to meet back up in at the end of the day.
Make the most of the coast
If you love the beaches and coastline of Wales but dislike the summer crowds, then May is the month for you. Although the weather is changeable (as always in Wales), May can be one of the most beautiful months of the year. But despite its often glorious weather and many long weekends, May remains the shoulder season for tourism, so prices and crowds have yet to reach their summer peak.
Make the most of this by hitting the coast and visiting places that get especially busy in the summer. Why not visit Tenby's famous beaches, Rest Bay Beach in Porthcawl, Abersoch's Main Beach, Benllech Beach on Anglesey, and Whitmore Bay in Barry Island.
Hit the coastal paths of Pembrokeshire, the Llyn Peninsula, the Gower Peninsula and Anglesey to enjoy the beautiful scenery with few people in sight. And if you're a surfer? Enjoy one of the last chances for empty waves before the surf schools hit their high season!
That's it
So what do you think? Does May hold some events and activities that pique your interest? Can you see yourself racing up the slopes of Snowdon, dancing your heart out at a music festival, paddling alongside dolphins in a tandem kayak, or strolling through a bluebell-filled woodland? If so, book your perfect holiday accommodation early so you can make the most of Wales in May.
What about next month? Here's our guide to the top 10 things to do in Wales in June.
Anita moved to South Wales as a child and has thought of herself as Welsh ever since – especially when it comes to rugby! She spent her childhood sailing the coastline and playing on the beaches and now continues to explore her chosen country as an adult. She loves discovering quirky villages, trying out adventure sports, and hunting for the best fish n chips in Wales.